We have been a cPanel Partner from last couple of years, but when cPanel was acquired by Oakley Capital last year, we knew changes were coming. A price increase was expected, but I don't think anyone suspected the bombshell that came today. June 27, 2019 cPanel announced a massive price increase and a complete change to their billing model, by adding an additional layer of billing per account. While small price increases are expected, Microsoft has had a number of 10-15% price increases over the years that we have endured without much issue, I don't believe anyone expected average price increases to be close to 100% (the average across our user base), doubling license pricing. Not only that, with the changes in the pricing model, we've seen users looking at close to 20x price increases, forcing them to re-evaluate their entire business model. On top of this, customers must address this complete change in just two months, as new pricing will be effective September 1. As there isn't much time, I put together this guide to provide some assistance.
To show the impact, I will give a specific (real life) example. Before this price increase, they were paying $200/yr directly to cPanel for unlimited accounts on a virtualized cloud instance. With the new pricing model, cPanel's list pricing for the base license is $45/mo, but is limited to 100 accounts, with additional accounts being $0.20 a month each. Now, this company has 500 accounts on that one cloud instance, as they're a lot of small, static sites or simple DNS hosting. That means their monthly bill is now $45 + ($0.20 x 400 additional account) = $125/mo. Their price is increasing from $200/yr to $1500/yr, a huge price increase. Many companies simply cannot survive price increases like that, so they need to look for alternatives.
What are the options for dealing with the cPanel price increase?
Migrate to a control panel other than cPanel
Migrate to a cPanel Partner NOC with lower cPanel pricing (As Like Us)
Live with the price increase and adjust your business model or pricing as needed
I cannot help a lot with option #3 as that can be very different from company to company, so the rest of this article will focus on the first two options.
Migrate to a cPanel Alternative
This option might seem daunting, but it is actually easier than you might expect (if you pick the right option). In the marketplace, there are four predominant control panels, cPanel, Plesk, DirectAdmin, and Interworx. All of these options have been on the market for a long time and do largely the same things, but there are positives and negatives to each in this scenario.
Plesk
Simply put, we do not recommend migrating to Plesk, and the answer is simple. This issue started because cPanel was acquired by Oakley Capital. Guess who owns Plesk? Oakley Capital. If you are leaving cPanel due to the business practices of Oakley Capital, do not expect anything to be any better with Plesk. We cannot recommend migrating to Plesk.
DirectAdmin
DirectAdmin offers a number of benefits over cPanel in that they offer simple fixed pricing at $29 per month or $200 per year with both including support for unlimited domains and accounts. Better yet, DirectAdmin makes the direct promise of "protection against price increases." Additionally, it is lighter weight, simpler, and leaner in general.
The negatives of the above are that DirectAdmin does not have the features or integrations of cPanel and the interface is not any prettier either. The supported integrations are limited, though it does support WHMCS. With the limited timeline before the pricing increase, the biggest issue could be that there are no complete tools for migrating from cPanel to DirectAdmin.
While you could manually migrate accounts to DirectAdmin, we saved the best (and our recommended solution) for last.
Migrate to Interworx as a cPanel Alternative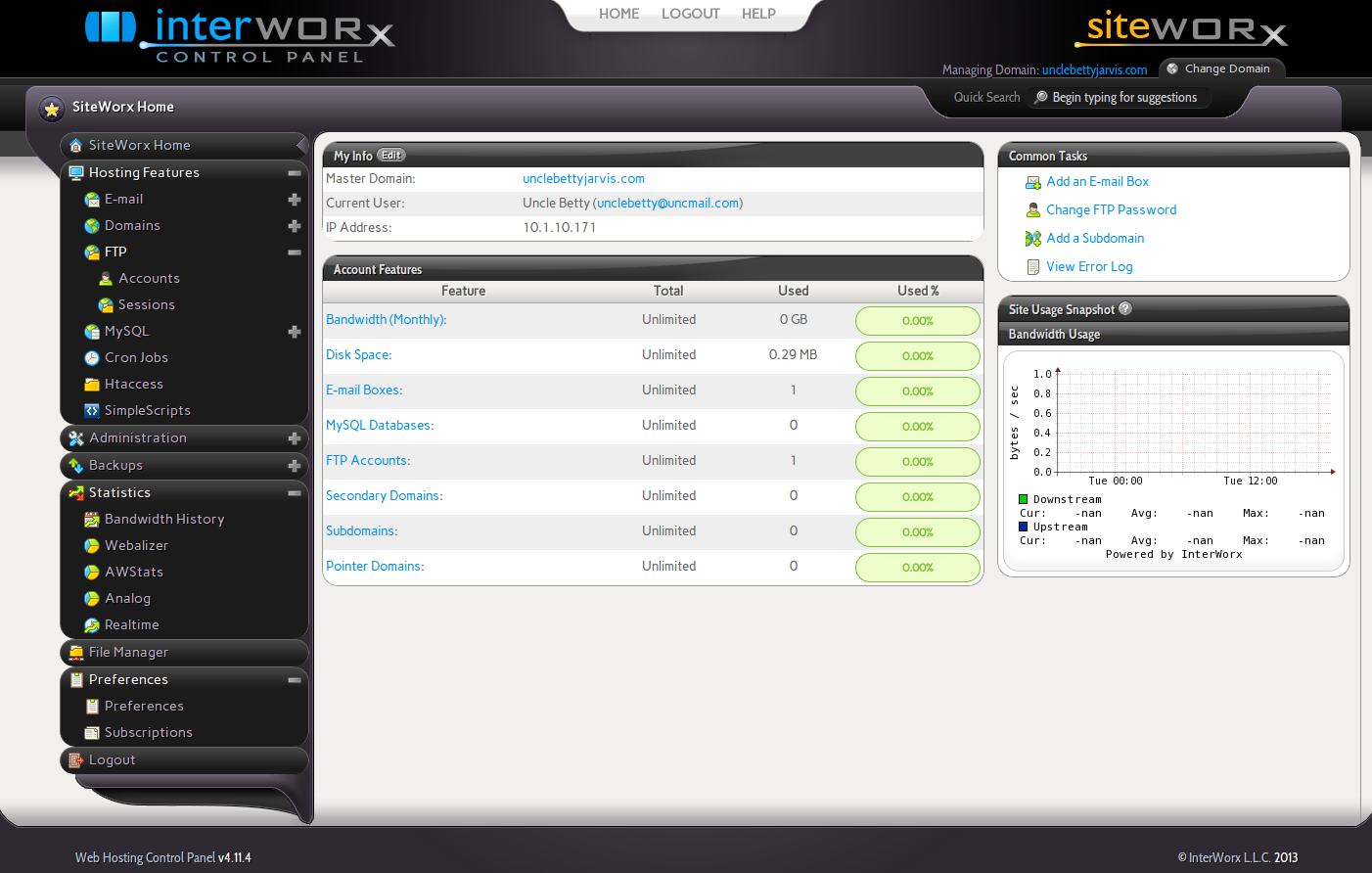 Our favorite control panel, by far, is Interworx. Why? First, it just works. It is a lot more modern than cPanel, providing a greater array of clustering functionality out of the box and a nice interface (see screenshot) that even works well on mobile devices. The interface is similar to cPanel, having Nodeworx (similar to WHM) and Siteworx (similar to cPanel), but is much more intuitive. Some of this improved usability is because there are fewer features, but you can still accomplish most everything you need to. Additionally, there are command line tools for doing essentially everything as well, and doing things on the command line will not break the control panel. The backend structure is much neater and cleaner, meaning it is easier to install and update, while having a smaller number of issues or problems.
Interworx also works with all of the major billing platforms (WHMCS, Clientexec, HostBill, Ubersmith, Blesta, and more), the primary script installers (Softaculous and Simple Scripts), and also core server software such as Litespeed Web Server and CloudLinux. Possibly the best feature for this scenario is that migrating from cPanel to Interworx is a built-in feature. You simply need to go use the "Import" feature inside of Siteworx.
Even simpler, work with us and we will provide you with full migration assistance and advice while providing an Interworx license for only $9 per month on our VPS and Cloud accounts or $14.99 per month (35 domain limit) or $24.99 per month (no domain limit) on our Linux dedicated servers. On the Interworx web site, you can see more screenshots of the control panel or request a free 2 week demo license.
Migrate to a cPanel Partner NOC
In the example I gave at the beginning, the pricing was based on getting the licensing directly from cPanel, but there are other ways to purchase cPanel licenses. Steadfast has been a Partner NOC of cPanel for nearly a decade, thus we don't just have a lot of expertise on cPanel, but we also get special partner pricing. Even better yet, if you are buying dedicated servers or cloud hosting from us, we will provide you with the licensing at close to our cost.
Instead of paying $125 per month ($45 for the base license and $80 for the additional users) the company from my example will save $50 per month (a 40% savings) by paying $75 per month. In most cases, we can help customers save at least 20% over the listed cPanel licensing.
Note: We cannot sell cPanel licenses outside of our data center.
What do I do next?
You can inform us if what is your decision. If you would like to stay with cPanel than you have nothing to do. But from 1st September your price will be increased as per your server statistics. If you would like to switch to other control panel. We can do a free migration who have less than 50 accounts. But if you have more than 50 accounts we might charge you. You can talk with our support representative regarding this.

Also we can give your free consultancy in our live chat which is better for you. As example you have hosted your own site and you don't sell to others. In this case we suggest to migrate CWP or similar panel. It will reduce your cost as well in some cases.
I am your Reseller Or Shared Customer, What shall I do?
Well, we haven't decided anything for our shared or reseller customer yet. Our management team is taking decision. We will inform you on email if we have to increase price for you. Company will decide which is best for our customers.
Contact to our live chat or support team for any further assistance or consultancy.
{$signature}
Monday, July 1, 2019